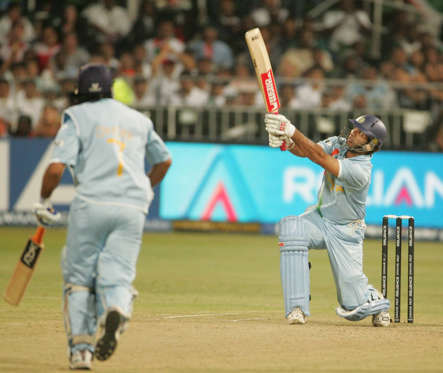 India registered a 18-run victory over England in the must-win Super 8s game to keep their hopes of reaching the semi-finals of the T20 World Cup alive in Durban on September 19, 2007. After being set a huge target of 219 runs to win the game as Yuvraj Singh (58 off 16; 4x3, 6x7) set the record for the fastest half-century and hit six sixes in an over from Stuart Broad, England could manage 200-6 in their allotted 20 overs and lost the match.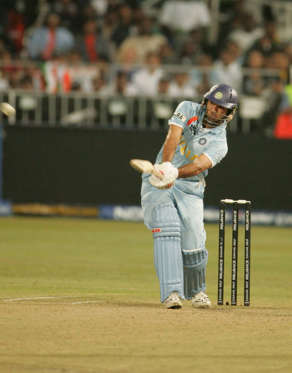 India ousted Australia by 15 runs to book their place in the finals of World T20 Championships in Durban on September 22, 2007. After setting Australia a daunting target of 189, India restricted the Aussies to 173-7 and set-up a finals against arch-rivals Pakistan. Earlier, Yuvraj Singh yet again took Australia to the cleaners with some power hitting as the left-handed bomber smashed a 30-ball 70 to whisk the "Men in Blue" away to a terrific 188-5.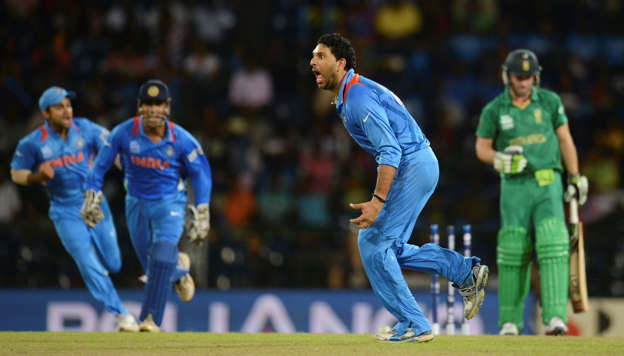 Indian bowlers performed superbly, as the "Men in Blue" defeated South Africa by just one run in their Group 2 encounter of ICC World T20 Championships at R Premadasa Stadium in Colombo on October 2, 2012. Batting first, India scored 152-6, with Suresh Raina smashing 45 (off 34; 4x5). Later, Zaheer Khan (4-0-22-3), Yuvraj Singh (4-0-23-2) and Lakshmipathy Balaji (3.5-0-37-3) destroyed the batting line-up of the Proteas, who were bowled out for 151 in 19.5 overs.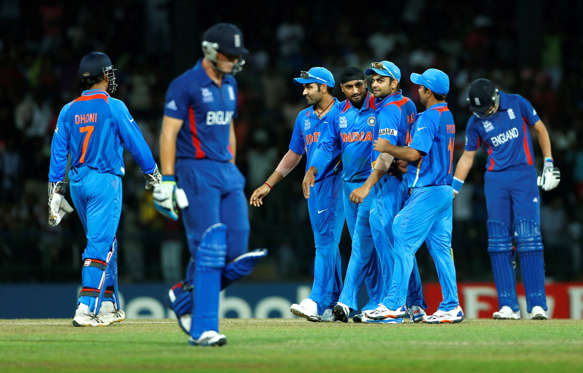 Riding on Yuvraj Singh's (4-0-19-3 and 38 off 21; 4x2; 6x3) all-round performance, India registered a five-wicket victory over England in the first match of bilateral T20 series at Pune on December 20, 2012. The visitors scored 157-6 after losing the toss. India reached home in 17.5 overs after losing five wickets. Apart from Yuvi, Virat Kohli (21 off 17; 4x2), Suresh Raina (26 off 19; 4x1, 6x1) and MS Dhoni (unbeaten 24 off 21; 4x2) also batted well against the English bowlers.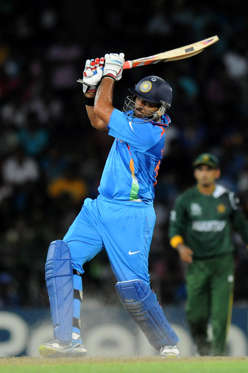 Yuvraj Singh scored 72 (off 36; 4x4, 6x7) and Ashok Dinda (4-0-36-3) claimed three wickets, as India defeated Pakistan by 11 runs in the second match of bilateral T20 series at Sardar Patel Stadium in Ahmedabad on December 28, 2012. After scoring 192-5, India restricted the visitors to 181-7 in their allotted 20 overs to snatch the victory. For Pakistan, top order batsmen Nasir Jamshed (41 off 32; 4x4, 6x1), Ahmed Shehzad (31 off 29; 4x3, 6x1), Umar Akmal (24 off 17; 4x1, 6x1) and Skipper Mohammad Hafeez (55 off 26; 4x6, 6x3) batted well. However, none of them played a match-winning knock.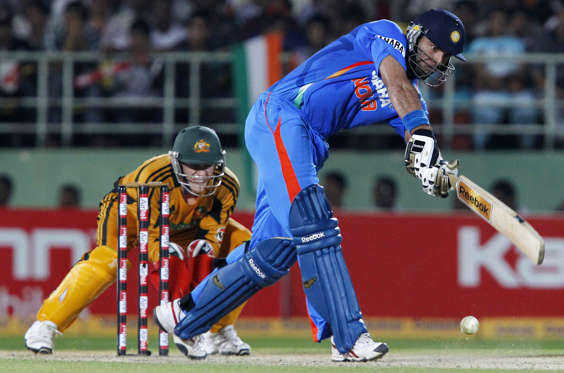 India played only one T20 match in the year 2013 and they defeated Australia by six wickets in Rajkot on October 10. Asked to bat, the Aussies scored a huge total of 201-7 at Saurashtra Cricket Association Stadium. For the Baggy Greens, opener Aaron Finch scored 89 off 52 balls with the help of 14 boundaries and a towering six. However, India reached home in 19.4 overs after losing just four wickets. For the hosts, Yuvraj Singh top-scored with unbeaten 77 (off 35; 4x8, 6x5). Yuvi received valuable support from Shikhar Dhawan (32 off 19; 4x5), Suresh Raina (19 off 13; 4x2, 6x1), Virat Kohli (29 off 22; 2x2, 2x1) and Skipper MS Dhoni (unbeaten 24 off 21; 4x2).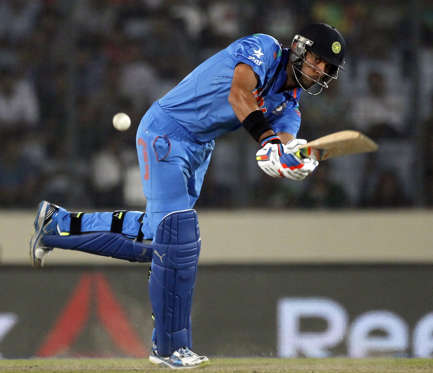 "Man of the match" Ravichandran Ashwin (3.2-0-11-4) single-handedly won the match for India on March 30, 2014. Batting first, India scored 159-7 as Yuvraj Singh smashed 60 off 43 deliveries with the help of five boundaries and for sixes. Later, India bowled out Australia for just 86 in 16.2 overs. Only three Australian batsmen - David Warner (19 off 21; 4x1, 6x1), Glenn Maxwell (23 off 12; 6x3) and Brad Hodge (13 off 18) - reached double figures.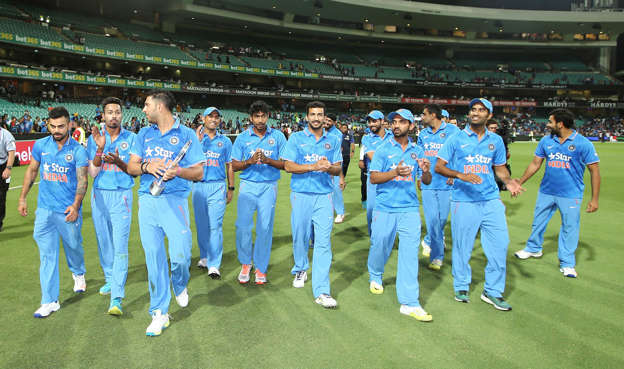 Rohit Sharma (52 off 38; 4x5, 6x1), Virat Kohli (50 off 36; 4x2, 6x1), Suresh Raina (unbeaten 49 off 25; 4x6, 6x1) and Yuvraj Singh finishes in his style, as India beat Australia by seven wickets at Sydney on January 31, 2016 to clinch the series 3-0. After winning the toss, Aussie Skipper Shane Watson scored unbeaten 124 (off 71; 4x10, 6x6) and helped the hosts scored a huge total of 197-5 in their allotted 20 overs. However, India achieved the target in the last ball of the match after losing just three wickets.