Round 16 matches has started and we have great day of football when First Penalty shout out of the tournament won by Poland after a great 0-0 draw match between Poland and Switzerland. Poland hit all their 5 shots on target and Switzerland missed out by 1 and Poland Qualify and face to Portugal in quarterfinal on 30th June.

Lichtsteiner to take the first kick for Switzerland.

Switzerland score! Lichtsteiner goes down the middle, cool as you like. Penalties: Switzerland 1-0 Poland.

Poland score! Lewandowski top corner. Wow! Penalties: Switzerland 1-1 Poland.

Switzerland miss! Wow! Xhaka sends it so, so far wide. Abysmal.Switzerland 1-1 Poland.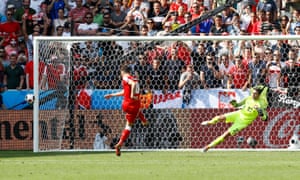 Poland score! Milik tests Sommer's wrists and squeezes it in.Switzerland 1-2 Poland.

Switzerland score! Shaqiri. Bottom corner. Never in doubt.Switzerland 2-2 Poland.

Poland score! Glik makes no mistake. Switzerland 2-3 Poland.

Switzerland score! Schar dinks it home. He's a defender. Lovely stuff.Switzerland 3-3 Poland.

Poland score! Blaszczykowski bangs it home. Switzerland 3-4 Poland.

Switzerland score! Rodriguez scores under intense pressure.Switzerland 4-4 Poland.

Poland win 5-4 on penalties! Grzegorz Krychowiak keeps his head and finds the corner. Five brilliant, nerveless spot-kicks.

Watch Highlight of Full Match